Just Turned 40? These Makeup Tips Will Come In Handy For You!
Age is just a number! But unluckily, our skin doesn't follow the same rule.
Especially if you neglected proper skin care during your youthful days, early signs of aging may start appearing on your skin as soon as your biological clock ticks 40!
In addition to the laugh lines and emerging wrinkles, you may even lack fuller brows and lashes you once had. So instead of stressing over it, these top makeup tips are here to save the day
Up Your Brow Game
Fuller and defined brows give a fresher and younger look. The key is to keep the minimalist approach here. Use a brow pencil and/or a matching brow shadow to fill up the gaps. Powdering on top helps set the pencil as well as offer more coverage. Do not go overboard with it. Just a few light strokes of a perfectly matching color and you are good to go!
Set the Right Foundation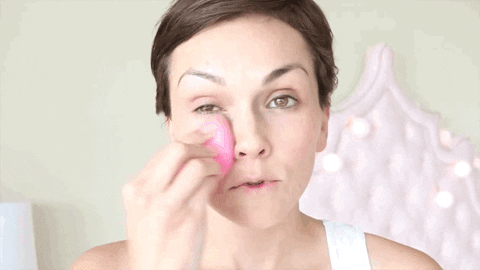 Setting the foundation and base of your makeup has always been the key to a good makeup look. However, after the age of 40, it becomes even more crucial. Don't miss out on it. Many women ditch foundations because it tends to set in their wrinkles and fine lines and make them appear more prominent.
This is where the right application technique and formula will help you. Don't miss it out as foundation can add both depth and color to your skin. As you age, it's best to pick foundations with hydrating, liquid, and lighter formulas.
Less is more to achieve that healthy glow. Use a brush or sponge to apply evenly and don't forget to pick the right shade!
Cheeky Glow
Those cheeks might be missing out on that rosy glow. But you can always use a blush to bring it back. Add a youthful touch by using bright tones like pinks and peaches. At this age, you can easily get away using brighter, bolder shades.
To make an aging skin appear flattering, use warm and bright colors instead of muted and dusted ones. You don't want to use a shade that contrasts with your natural tone.
Prepping Up Your Lips
The loss of collagen in lips is a natural aging process. However, it tends to leave your lips dry and shrunken. Ditching the complete matte look is a great idea. Reintroduce glosses into your makeup collection to bring back the appearance of plumpness and hydration.
To add color, you can always go back to your matte lipsticks but definitely add a gloss-it-up step to your lipstick application routine. A few dabs are enough for a flattering pout.
Conclusion
These are the top makeup tips you can adopt with aging skin to achieve a super glowing, youthful look. Never hesitate in experimenting and continue to change your makeup routine for more fun. Most importantly, take care of your skin to keep it fresh and young for longer!
Gif sources: Giphy and Buzzfeed